MEETING CANCELLED
TUESDAY MARCH 24, 2020
NELSON HALL AT
ST DAVID'S EPISCOPAL CHURCH
205 Old Main Street
South Yarmouth
AAUW Board Meets 12:15 – 1:30 PM
Socializing 1:30 PM
and
Regular Meeting  2:00 PM
Program
Discussion of March Book: "We the Resilient, Wisdom for America from Women Born Before Suffrage"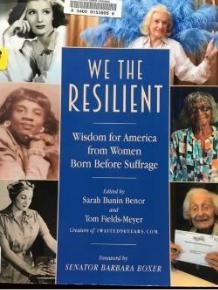 Edited by Sarah Bunin Benor and Tom Fields-Meyer. Hear from a variety of women ages 95 – 103 who witnessed the first vote by women.
Read what advice they have for us in these divided times in our country.
The book is available from the CLAMs Library system. Please try to read before our meeting.