February/March
2020
ACTING PRESIDENT'S MESSAGE
Welcome back from the holiday recess. Did you make a resolution to be more active in AAUW this year? We have a busy spring ahead with activities reflecting our goal of equity for women and girls. We lost seven members this year and need everyone's help to support this goal. National is partnering with the Boston Chapter of International Association of Business Communicators to promote the Work Smart Online program this year. In addition, it reports a $500,000 donation from the Coco Cola Foundation for AAUW's success in launching the program which is designed to help women narrow the pay gap with salary negotiation.
Here on the Cape we are looking forward to International Women's Day Breakfast on March 5, the branch's March roundtable discussion of We the Resilient, in recognition of the anniversaries of the Women's Suffrage Amendment and the Equal Rights Act, and our major fund raiser for scholarships, The Book and Author Tea in June.
There are ample copies of the discussion book in the CLAMS system, mostly under the classification number 305.42 WE. This would be a good opportunity to invite a friend to one of our meetings. The branch needs to be better known in the community. At our holiday luncheon another patron of the restaurant asked "What is AAUW?" Are we invisible? Invisibility does not advance causes or bring in new members. This is no time to be stuck in March mud. Let's get out and PUSH—-by volunteering when asked and by talking about our causes and activities among friends and neighbors.
Elsa Murphy, Acting President
---
Message From The Program Director
In March, we resume our monthly meetings. On March 24th, we will have a book discussion on We the Resilient: Wisdom for America from Women Born Before the Suffrage, edited by Sarah Bunin Benor and Tom Fields-Meyer. In 2016, all of the women in the book were among the 186 who voluntarily submitted their photographs and statements to a pre-election website, iwaited96years.com. Fifty-five women responded to questionnaires after the election, but before Trump's inauguration – from both parties. Come and listen and explore some remembrances and thoughts about living before women had the vote and the chance to vote for a woman president. I will be leading this discussion and I hope that you can join me.
Earlier, on March 4th, The Cape Women's Coalition will hold its seventh International Women's Day Breakfast. It will be held again at the DoubleTree Inn in Hyannis from 8:00 to 10:00. (Breakfast starts at 7:15.) If you aren't on the mailing list, you can make reservations by going to the website CapeWomensCoalition.com. The cost is $10 plus a small service fee.
This year's theme is, "It's all about the Vote". The Breakfast will be a celebration of the women and the struggles they endured to secure the right to vote. We will also discuss how important every vote is, and some of the struggles and support for women to vote and/or become politically active. AAUW Cape Cod Branch is a sponsor of this Breakfast! So let's try to have a good turnout. We will have a table to display some of our "stuff" – and advertise our Book and Author Tea in June. If someone would like to help me with the table display, please email me at raalden@capecod.net.
Hope to see you in March at both events, if you can. Becky Alden.
Bring your "good reads" for the Book Exchange. A bargain at $1:00 per book.
---
SCHOLARSHIP NEWS
This is the year for our major scholarship fund-riser the Book and Author Tea. The biennial event is scheduled for Tuesday, June 9, this year at 2 p.m. at the Cape Codder. Please mark your calendars! Phyllis Rubin is not able to chair this event, but Elaine Bono and Lyn Solomon have volunteered to co-chair the event, along with Anne Rosenthal.
---
WE ARE ON FACEBOOK!
Please check out our Facebook Page: If you are on Facebook, Please go to the following Link: https://www.facebook.com/aauwcapecodbranch or search for AAUW Cape Cod. "Like" the page so that you will keep up with articles and information related to AAUW, and local women's' advocacy information. If you have information to post and share, email Lyn Solomon or Maggie French.
---
Book Exchange
Please don't forget to bring your lightly read books to the meeting to exchange for new ones. The price is reasonable: $1 for hard covers; $.50 for paperbacks. On days like today, it's nice to curl up with a book, some hot chocolate (or perhaps a glass of wine?) in front a fireplace, and get lost in a book for a few hours.
---
STUDY AND INTEREST GROUPS
BIRTHDAY LUNCHEON GROUP
Beverly Stec is arranging these luncheons. These gatherings are especially for those with birthdays during each calendar quarter, however all members are invited to attend.
CAPE COD THEATER
Look
Flanagan 508-362-4319.
bethfcapecod@gmail.com.
FILM GROUP
If you would like to be part of a non-formal email group who get together periodically to discuss recent films, please call Phyllis Koppell
508-237-3169.
Cooperative Dinners
Looking for Hosts for March and April. Please contact Elsa at 508 986-7661 ; elsa.e.murphy@gmai.com)
Book Groups
Book Groups: Book Group 3 has lost some members this year and will welcome anyone interested in joining this long standing book review group. The seven members live east of Hyannis, meet in each others homes, have varied reading interests, and enjoy lively discussions at their meeting. If you would like to come to a meeting as a guest contact Beverly Stec (508 385-5760 memerestec@gmail.com) for date, time, and place. Book Group 3 meets the third Thursday of each month. Contact person is Beverly Stec. 508-385-5760.
Our After-Holiday Luncheon at The Marshside: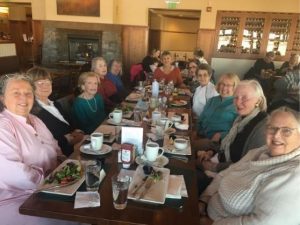 ---
Past Issues