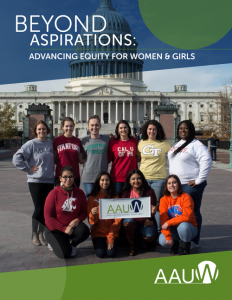 American Association of University Women (AAUW) is a nationwide network of more than 170,000 members and supporters, 1,000 branches, and 800 college/university institution partners.
For 130 years, AAUW members have examined and taken positions on the fundamental issues of the day — educational, social, economic, and political. Our commitment to our mission is reflected in all aspects of our work.
AAUW, , is open to all who hold an associates or higher degree from an accredited college or university. Undergraduates may become AAUW affiliates. In principle, and in practice, AAUW values and seeks a diverse membership. There shall be no barriers to full participation in this organization on the basis of gender, race, creed, age, sexual orientation, national origin, disability or class.
MISSION AAUW advances equity for women and girls through advocacy,education, philanthropy and research.
VALUE PROMISE By joining AAUW, you will belong to a community that breaks through educational and economic barriers so that all women and girls have a fair chance.
MEETINGS are held at South Yarmouth United Methodist Church on Old Main Street in South Yarmouth. It has plenty of parking opposite the Riverway Restaurant on Rt. 28.
BOARD MEETINGS will take place at 10:30 am on the day of the monthly meeting at the site of the meeting.
MEETING CANCELLATIONS In the event of a heavy storm, cancellation of a branch meeting will be announced on WQRC, 99.9 FM on your radio dial.
FUNDRAISING ACTIVITIES  We will have various fundraising activities during the year to support our branch, the Legal Advocacy Fund, the Educational Foundation as well as our local scholarship.
AAUW and Cape Cod Branch History
 The American Association of University Women had its first meeting in Boston in 1881.  The first branch in the state was founded in 1886 in Boston.  The Cape Cod Branch celebrates its 50th anniversary in 2012 with a membership of 100. It was founded in 1962 when 24 women worked from April to November writing by-laws, electing officers and organizing the branch.  The charter was granted on April 1, 1963 and presented to 42 charter members on May 23. In the 1960's when the branch was founded, there were no other organizations available to women so the appeal of the branch was significant.
At first there was relatively little activity of any kind during the winter months.  A local scholarship was started with a $25.00 grant to a girl attending Cape Cod Community College which was then housed in an old normal school building.  The branch newsletter was started and speakers at the monthly meetings were usually branch members who brought diverse talents to the organization.
In the 70's the branch received a Research and Projects Grant from the Educational Foundation for the tutoring of Head Start parents endeavoring to qualify for high school equivalency. As a result,  47 adults were tutored. Up to this time, the branch had been meeting in churches and libraries all over the Cape.  Meetings were moved to the West Dennis Community building and all board meetings and regular meetings were held on Tuesdays.  In 1972, AAUW played a key role in the passage of Title 1X which prohibited sex discrimination in federally funded institutions.  Cape Cod branch programs emphasized ecology and concern about fresh water.  It supported the Bottle Bill and celebrated the Bicentennial in costume at the Old Barnstable County Courthouse.  The branch provided all-day conferences on World Hunger, Our Fragile Environment, and a program at Four C's called "Stop the World; We Want to Get On."   At the end of the 70's, the membership was around 170.
In the 80's and 90's activities were held almost year-round.  Some members met in the evening, and Satellites East and West became active for members on the Lower and Upper Cape.  Some consideration was given to forming separate branches of these satellites but the plan was discontinued after three or four years. One meeting a year was held on Sunday afternoon. The branch received another education grant to work with the Wampanoag Native Americans to provide a teacher's workbook for third graders.
In 1990, following the Association study on gender equity, the branch held a Cape-wide televised Round Table on "Initiative for Educational Equity in Cape Cod Classrooms:  Are Girls Being Shortchanged?"  Panelists were from banks, newspapers, Rotary clubs, civic groups and investment businesses.In the 90's the book sale added a jewelry table and moved its location to St. Christopher's Episcopal Church in Chatham at the end of July.  Fund-raising branched out to include "Art in Spring on Cape Cod," highlighting local women artists and floral arrangers. Three members of the branch participated in the Cape Cod Literary Council Adult Spelling Bee and made headline news by winning for two years.
In addition to its regularly scheduled monthly meetings, the branch offered its members a variety of interest groups including Antiques, Armchair Travel, eight book group, Great Decisions, Issues of the Day, Music, the Players (a drama group) and an Art and Architecture group. In 1998, the branch had 240 members.
Around 2000, we had problems finding just the right place for us to meet as you can see from the number of meeting places: First Congregational Church of Yarmouth; West Dennis Graded School House; Cape Cod Islands Assoc. of Realtors Conference Center. Finally, in 2002 we discovered the beautiful room where we meet now – Nelson Hall at St. David's Church in South Yarmouth.
Accordingly, we had as our main fund raiser, our Book and Jewelry Sale in the same building.  Fund raising is always, of necessity, a main goal, and we have had many changes and additions in the past years……such as: Holiday Gift Basket Raffle; Count Your Blessings Appeal; November white elephant auction; Book and Jewelry Sale; and the Book and Author Tea.  These and more are needed to support our donations to Educational Foundation, Legal Advocacy Fund, our branch activities, and our local scholarship and other Cape philanthropic endeavors supported by our membership. Our branch, each year, has worked to further out outreach activities to our local colleges and our community.  We now give a $2000 scholarship to a local woman so that she can complete her baccalaureate.
We have become quite involved with our two local colleges, Cape Cod Community College and Massachusetts Maritime Academy. We have worked for and supported their program in Non-traditional Gender Education and STEM Education Programs. We supported two students from 4 C's attending the NCCWSL leadership program sponsored in part by AAUW. We participated in their program on civility in political discourse. We hope to have them as an affiliated college with our Branch.
We also have a June "picnic" so that members become better acquainted with each other.  We have held two field trips to the Schlesinger Library at Harvard and the Peabody Essex Museum in Salem. We hold a "diversity" Branch book discussion in March, with members as leaders. We hold  "a lunch with the Board" for new and prospective members. Our branch has gone hi-tech by emailing our newsletters and voting in national elections using our computer. We are updating our webpage this year to keep us  more informed with AAUW and the State. We started an active "Cape Cod Theater Group" and a "Birthday Group" in addition to our four book groups.  We are attempting to support all major initiatives from our national Association. We look forward to our 60th anniversary in 2022 and  look forward to many new members joining our Branch!